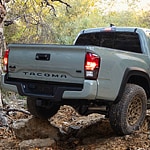 The 2022 Toyota Tacoma is a versatile and dependable truck that offers a variety of exterior features to suit your needs. The grille is designed to protect the engine from damage, and the headlamps provide ample light for nighttime driving. The tailgates can be opened manually or with the push of a button, and the wheels are available in a variety of sizes and colors.
The doors are designed to provide easy access to the interior of the vehicle, and the liftgate makes it easy to load and unload cargo. The mirrors are equipped with turn signal indicators, and the wipers are designed to keep your windshield clean and clear. The windscreen is tinted to reduce glare and UV radiation, and the roof rack can be used to transport bulky items.
Whether you're looking for a vehicle to take on off-road adventures or need a reliable mode of transportation, the 2022 Toyota Tacoma at Big Two Toyota in Chandler, AZ is an excellent choice.