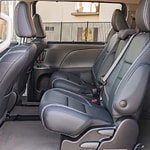 Toyota does not hold back when it comes to standard comfort features on its vehicles. The brand clearly wants to be known as the kind of brand that puts comfort first and foremost for its customers. They have been great at doing exactly that.
The Toyota Sienna is loaded with features like a Blu-Ray entertainment system for passengers. That along with the Smart Key technology that makes it a lot easier to get into the vehicle in the event that you don't have your keys immediately in your hand is important. You may need to bring certain items into your house, and the best way to do so is to use this smart technology to get the doors open.
Finally, enjoy the fact that the third row of seating can be converted into extra storage space as needed for additional cargo. People sometimes don't have as many passengers but may still require additional cargo space. In that case, the fold-down seat definitely comes in handy.