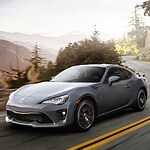 Usually, sports cars aren't sold based on their interior designs. Here at Big Two Toyota, however, we occasionally come across vehicles that break the mold and set themselves aside. The Toyota 86 might be one such vehicle - it's equipped with all the grandiosity and elegance that you might associate with a sports car, but it does more than that.
The 86 has an interior that begs you to revel in its magnificence. With elegantly trimmed seats that equally feature comfort and good craftsmanship, the 86 introduces you to the driver's seat in the best way possible. Once you grip the steering wheel and its audio control system, it'll be difficult for us to pry you out of this vehicle.
If you want to give in to the Toyota 86 and all its charms, then come try out this car on a test drive here at Big Two Toyota, located here in Chandler.